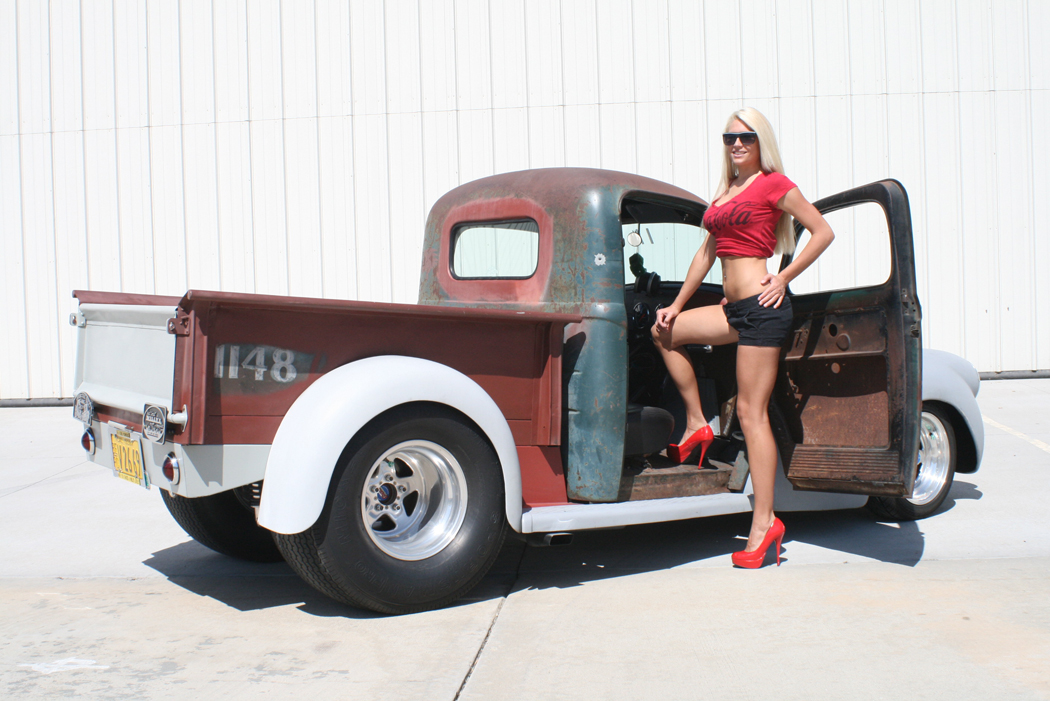 It's That Time Again!
Mike Brattland's 1938 Willys Pick-Up
Story and photographs on location, Gillespie Field, El Cajon, Calaifornia by Ed Zimmerly
It Gives Haulin' Ass New Meaning
              For those of you that enjoy seeing everything I do online, you've got Mike Brattland to thank. Last December, when  San Diego Web Offset printing closed its doors, I decided to take OverDrive Hot Rod News online. Mike Brattland stepped in and made it a reality.  OverDrive is also connected to the "late" Woody Downing (June, 2021,now Mike Brattland) who shares his "blast" list with us. Without Mike, I would probably be hanging out in bars, and in general, becoming more annoying to everyone. Needless to say, I'm grateful for their help and an excited to be able to continue bringing all of you the great car related stories along with cheeky, babe photos that have made OverDrive Hot Rod News a success for the last ten years.
               Like many of us, Brattland, is a multi-talented guy. He's as passionate about cars as he is a computer techie. His automotive interests focus on primarily on all things Willys. His '38 Willys pick-up is built with a distinctive and intimidating pro-street style. Up front, a big block Ford is poised to send some serious horsepower to a pair of monster Mickey Thompsons, tucked under the bed. The big block Ford is a 466 cubic inch power plant that utilizes a very unusual 3 X 2 Holley carb set up or 6V in Ford parlance. If you go to Mike's website www.ford6v.com there is an extensive commentary on this unique induction system. The tranny is 4 speed, toploader. All of the Willys-Ford's raw energy is transferred to a 9-inch rear end with 3:89 gears. The suspension consists of a basic Mustang II front end. Obviously, the rear is tubed to accommodate the "street- sweeper" sized rear meats. The rear end is held together with a typical, yet beefy, 4 link and coil-overs. Not one to waste money, Mike chose to run the Willys in it's original patina. There's a story behind the Colby Mattress Company graphics on the doors. But, once again, Brattland's  Gerle Creek website can fill you in on the details.
Subscribe to the OverDrive Hot Rod News Updates!
Un-Subscribe to the OverDrive Hot Rod News Updates!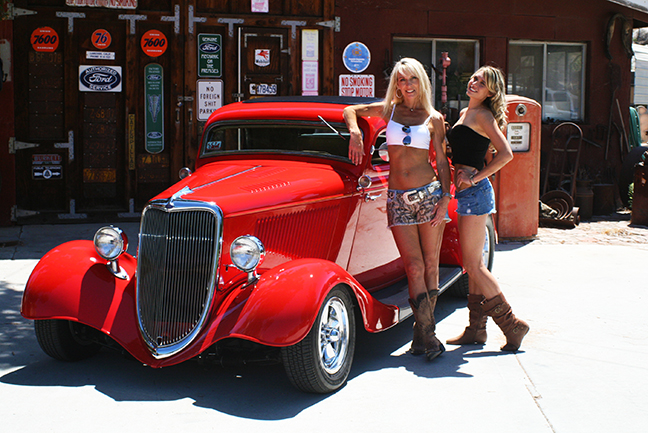 No, You're Not Seeing Double!
Enjoy The First OverDrive Hot Rod News Mother & Daughter Feature Car Photo Shoot Models Katie & Sidona Malone…
Bill & Patti Hogue's 1934 Ford 3-Window Coupe Second Hand Rose (Rosie) Click on Photo for Slideshow
Story By Bill Hogue. Photos of Katie & Sidona Malone by Ed Zimmerly on Location Lakeside, CA
In 1973 I was driving what I thought was my dream car, a 1940 Ford coupe hot rod that I'd been working on for a year. Then I found an old '34 Ford 3-window coupe with a chopped top and the '40 was soon up for sale. The '34 was a well used old race car, a refugee from the Southern California dry lakes and drag strips of the 50's and 60's. I learned from a previous owner that the car had been chopped in 1951 and had been run with everything from a flathead Ford to blown Olds and Cadillac V8s. The 10" engine set back, roll bar, '56 Olds rear axle and massive traction bars testified to its' racing heritage. I was a struggling college student so I had to give up racing the '34 and fix it up for the street since it became my only car. Eventually, with help from my fellow Over the Hill Gang Club members, I was able to do a six-month rebuild on the car in 1975 and it has been on the road since then.
The Second Hand Rose name originated with an old Fannie Brice song from the 20's about a girl who always had to wear second hand clothes. Due to my lack of funds to do the rebuild almost every part used in the reconstruction came from a wrecking yard, swap meet, flea market, want ads, or my friend's left over parts hoards. Over the Hill Gang members became so tired of me haunting their garages and backyards that they would give me stuff just to get rid of me. All the work was done in my one car garage in Lemon Grove with lots of help from the late John Pickle and Eddie Fitzgibbons. When the car was finished in '75 I had a total (including purchase price) of $3,450 invested in it.
Two weeks after completing the rebuild Patti and I took Rosie on our first cross county drive to the '75 Street Rod Nationals in Memphis, Tennessee. Since then Rosie has traveled nearly 160,000 miles visiting 36 states, three countries, and four traffic courts. A/C (from a salvage yard) was added in 1985. There is a trailer hitch on the back to tow a small cargo trailer or a tent trailer. She's been drag raced, rallied, solo raced, driven in parades, and used as a commuter car for work. Both my sons took their first car ride in Rosie coming home from the hospital and one later drove her to his high school prom.
Over the years Rosie has had four engines, three transmissions, two rear ends, two interiors and two paint jobs. The current engine is a 350 Chevrolet with numerous internal modifications and a 4-71 GMC blower with a single big AFB carb. The transmission is an M-22 "Rockcrusher" 4-speed with a Hurst shifter and the rear end is a Ford 8" with 3.50 gears. The front suspension is a combination of Corvair, Camero, and Mustang parts (it's weird but it works).
The body is all original Ford steel with a 3 ¾ " top chop and a laid back windshield. In 1980, Jack Williams Custom Auto Body painted Second Hand Rose. Former OTHG club member, Nancy Schull stitched the interior in 1983.