Welcome to the newest page addition to OverDrive Hot Rod News:
Automotive Art
Publisher's Note: After spending the last several years admiring the works of many talented automotive artists, I decided to dedicate a page to help expand my fellow car enthusiast awareness of the distinctive & interesting automotive art that's out there for our viewing pleasure. Enjoy!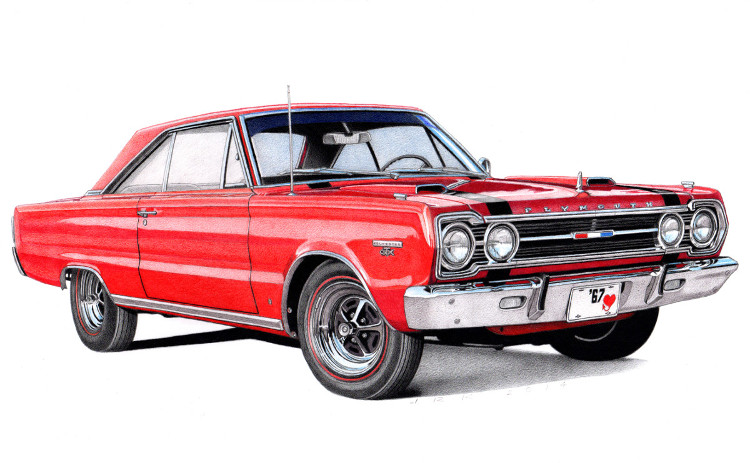 First OverDrive Hot Rod News Feature Artist:
James Robert Kotan
Robert Kotan's love of cars began at an early age with his father's job as a car salesman back in the 1940's as well as his brother Andy's 1st muscle car. A connection that developed into a deep appreciation for the beauty and detail of the automobile. With no formal training Robert began drawing cars and never looked back.
Robert is a local artist living in Waterloo,Ontario,Canada. His specialty lies in the field of Automotive Art. Robert's artwork covers a wide range of cars including Hotrods,Musclecars,Classics, and Car Racing. In May of 1996 Robert enrolled in the Graphic Design and Advertising program at Conestoga College in Kitchener,Ontario,Canada. After receiving a diploma He took a completely different direction and decided to pursue Illustration.
From there it evolved into a passion for drawing all things especially the Automobile. Robert continues to showcase his work thru various car event and shows throughout Canada and the United States.
Robert has developed a unique style that captures the detail and beauty that his many clients have to come to appreciate. Some of his work has been commissioned by large companies such as Steele Rubber Products Inc., LG Electric Inc., and various car collectors from all over the globe.
Always one to keep his finger on the pulse of what's relevant, Robert pays homage to many of the key historical cars and racers with his Limited Editon works. Currently Robert prefers to work on several projects at once as well the many commissions that he is fortunate to be involved in.
For commission enquiries you can contact Robert by email: jrobertk@rogers.com , website is: www.jrkillustration.com , Or by phone : 226-808-9202 Robert Kotan is also on Facebook.